posted on 31 Mar 2015 09:23 by elanorburries
Overview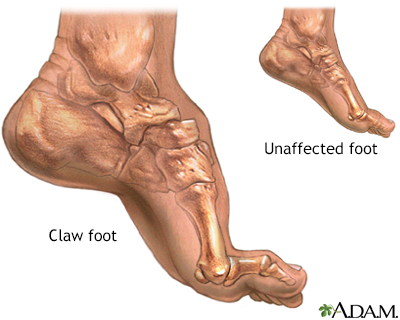 The terms fallen arches and flat feet are used interchangeably to refer to a condition in which there is no arch of the foot. An arch is formed by tendons in the foot that stretch from the heel of the foot to the base of the toes, or metatarsals. There are also supporting tendons that originate in the lower leg. Together, these tendons work to form an arch, noticeable as a slight rise in the inner midsole of the foot. This rise or arch can be classified as a normal arch, a high arch, or a fallen arch. When tendons do not work together to pull properly, this results in a fallen arch or flat foot. Aside from the occasional pain associated with flat feet, problems with fallen arches can extend upwards to the ankles, knees, hips, and even the back, altering the biomechanics of the body.
Causes
The arches of most individuals are fully developed by the age of 12 to 13. While some people are born with flat arches, for others, the arches fall over time. The tibial tendon, which runs along the inside of the ankle from above the ankle to the arch, can weaken with age and with heavy activity. The posterior tendon, main support structure for the arch, can become inflamed (tendonitis) or even tear if overloaded. For women, wearing high heels can affect the Achilles tendon and alter the structure and function of the ankle. The posterior tibial tendon may compensate for this stress and break down, causing the arches to fall. Obesity is another contributing factor, as well as a serious injury to the ankle or foot, arthritis and bad circulation such as occurs with diabetes.
Symptoms
It?s possible to have fallen arches and experience no symptoms whatsoever. But many people do notice some problems with this condition. Their feet, back and legs ache. Standing on their toes is difficult, if not impossible, and they note swelling around the arch and heel.
Diagnosis
If your child has flatfeet, his or her doctor will ask about any family history of flatfeet or inherited foot problems. In a person of any age, the doctor will ask about occupational and recreational activities, previous foot trauma or foot surgery and the type of shoes worn. The doctor will examine your shoes to check for signs of excessive wear. Worn shoes often provide valuable clues to gait problems and poor bone alignment. The doctor will ask you to walk barefoot to evaluate the arches of the feet, to check for out-toeing and to look for other signs of poor foot mechanics. The doctor will examine your feet for foot flexibility and range of motion and feel for any tenderness or bony abnormalities. Depending on the results of this physical examination, foot X-rays may be recommended. X-rays are always performed in a young child with rigid flatfeet and in an adult with acquired flatfeet due to trauma.
Non Surgical Treatment
Heel cord stretching is an important part of treatment, as a tight Achilles tendon tends to pronate the foot. Orthotics (inserts or insoles, often custom-made) may be used. These usually contain a heel wedge to correct calcaneovalgus deformity, and an arch support. This is the usual treatment for flexible Pes Planus (if treatment is needed). A suitable insole can help to correct the deformity while it is worn. Possibly it may prevent progression of flat feet, or may reduce symptoms. However, the effectiveness of arch support insoles is uncertain. Arch supports used without correcting heel cord contracture can make symptoms worse. In patients with fixed Pes planus or arthropathy, customised insoles may relieve symptoms. Reduce contributing factors, wear shoes with low heels and wide toes. Lose weight if appropriate. Do exercises to strengthen foot muscles - walking barefoot (if appropriate), toe curls (flexing toes) and heel raises (standing on tiptoe).
Surgical Treatment
Rarely does the physician use surgery to correct a foot that is congenitally flat, which typically does not cause pain. If the patient has a fallen arch that is painful, though, the foot and ankle physicians at Midwest Orthopaedics at Rush may perform surgery to reconstruct the tendon and "lift up" the fallen arch. This requires a combination of tendon re-routing procedures, ligament repairs, and bone cutting or fusion procedures.
After Care
Patients may go home the day of surgery or they may require an overnight hospital stay. The leg will be placed in a splint or cast and should be kept elevated for the first two weeks. At that point, sutures are removed. A new cast or a removable boot is then placed. It is important that patients do not put any weight on the corrected foot for six to eight weeks following the operation. Patients may begin bearing weight at eight weeks and usually progress to full weightbearing by 10 to 12 weeks. For some patients, weightbearing requires additional time. After 12 weeks, patients commonly can transition to wearing a shoe. Inserts and ankle braces are often used. Physical therapy may be recommended. There are complications that relate to surgery in general. These include the risks associated with anesthesia, infection, damage to nerves and blood vessels, and bleeding or blood clots. Complications following flatfoot surgery may include wound breakdown or nonunion (incomplete healing of the bones). These complications often can be prevented with proper wound care and rehabilitation. Occasionally, patients may notice some discomfort due to prominent hardware. Removal of hardware can be done at a later time if this is an issue. The overall complication rates for flatfoot surgery are low.